Our Projects
Major Project Experience:
DFW Connector & North Tarrant Express (NTE)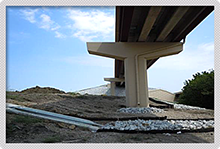 Our staff has extensive experience in the design-build projects including DFW Connector and North Tarrant Express (both currently under construction) from proposal to construction phase. Our staff served as DFW Connector Area Leads on Areas 5 & 6 for drainage design and Area 6 for Maintenance of Traffic (MOT) plans. We were responsible for the hydrologic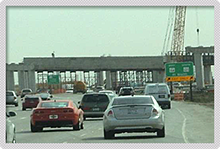 and hydraulic design including all enclosed systems, open ditches, regular and bridge class culverts, channel and site grading, detention pond design, and bridge scour analysis. We performed hydrologic and hydraulic study for FEMA regulated streams; sized bridge openings and coordinated with the local floodplain administrators and U.S. Army Corps of Engineers.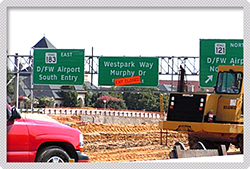 Our firm also serves as a consultant for Bluebonnet Contractors (BBC) for NTE construction phase design support. We were responsible for the design of traffic management plan, including temporary drainage and temporary retaining walls. We also designed temporary traffic signal and timing. GCS also reviewed all Zone 2 proposed retaining wall plans. Our staff also reviewed, recommended and developed drainage details specific to the needs of the Contractor and TxDOT Fort Worth District. We provide cost effective solutions and options to the client when deemed practical. We manage, coordinate and provide timely responses and solutions to FDCs, NDCs and RFIs.

Clients Served:
Federal: US Army Corps of Engineers, Federal Emergency Management Agency
State: Texas Department of Transportation (Various Districts)
Regional/Toll Ways: North Texas Tollway Authority, DART, The "T", TTA, Dallas County, TxDOT/NTTA – Southwest Parkway (SH 121) – Traffic Warrant Studies at Intersections:
1. Sycamore School Road
2. FM 1187
3. McPherson Road
Airports: Dallas-Fort Worth International Airport, Fort Worth Meacham International Airport, Austin-Bergstrom International Airport and St. Louis International Airport
Municipal: Municipal: Cities of Dallas, Fort Worth, Frisco, Arlington, Bedford, Southlake, Lubbock, Carrollton, Farmers Branch, Lancaster, Azle, City of Plano and EJES, Inc. – Brown Branch Hydraulic Study and various other municipalities.
Public/Private/Partnerships: NorthGate Constructors/TxDOT Fort Worth District, Bluebonnet Contractors (BBC)/TxDOT Fort Worth District – North Tarrant Express (NTE) Construction Phase Design Support.
Sample of Past Projects:
TxDOT: DFW Connector (DFWC); IH 820 Bridge Replacement, Fort Worth, Texas; IH 635 NBFR, Dallas, Texas; US 69 Widening, Alba to Mineola, Texas; US 82, Lubbock, Texas; IH-610/Old Katy Freeway Reconstruction - Section 1, Houston, Texas; US 67/SH 144 On-System Bridge Replacements; SH 45 Reconstruction in Williamson County, Texas; IH-35 Reconstruction from FM South 2837 to FM 2063, Waco, Texas; FM 76 (North Loop Road), El Paso, Texas; as well as various other projects.
Tollways: President George Bush Turnpike (PGBT) widening from IH 35E to US 78; PGBT Eastern Extension Section XXX; Southwest Parkway Tollway (SH 121), Fort Worth, Texas; Dallas North Tollway (DNT) capacity improvements; DNT Extension from Sam Rayburn Tollway to US 380; System-wide AllElectronic Toll Conversion; and various other expansion, capacity, and safety improvement projects.
Roadways: Various municipal arterial, collector, and major thoroughfares throughout the Metroplex.
Light Rail Transit: DART Blue Line from Garland to Rowlett, Texas. The "T" Commuter Rail Facilities – Fort Worth, Texas.
Utilities: Water lines varying in size from 6" to 30" and sanitary sewer lines throughout the Metroplex.